Il ya fort à parier que comme 99% des internautes, vous ayez vu l'intervue d'Emma D'Arcy et Olivia Cooke, les interpretèrs'Alicent Hightower et de Rhaenyra Targaryen dans House of the Dragon. Si vous faites partie des 1% restants, ou que vous vivez dans une grotto, sachez que les deux comédiennes à l'affiche de la série derivede de Game of Thrones ont répond à des questions promotenelles… Et que l'une de ces questions portait sur leur boisson préféréece qui a déclenché l'émoi des internautes !
special google animation House of the Dragon
Une promotenelle de HBO dans laquelle Emma D'Arcy et Olivia Cooke se posent mutuellement des questions écrite sur des mini-parchemins dans un bol en forme d'œuf de dragon a fait sensation. At this point, Olivia Cooke demanded to play: "Quelle est ta boisson préférée?" et la réponse a déclenché un ras-de-marée de memes sur Internet : "Un Negroni… Sbagliato… avec du Prosecco dedans". Cerise sur le gâteau, cette réplique a nowreis sa prepre animation Google! Indeed, on the famous search engine, if you tap "Emma D'Arcy", "Olivia Cooke" or "Negroni Sbagliato", you will be able to see a small animation showing Alicent Hightower and Rhaenyra Targaryen en train de trinquer. La main de la Verte tient un gin martini avec un zeste de citron et celle de la chef des Noirs un Negroni Sbagliato.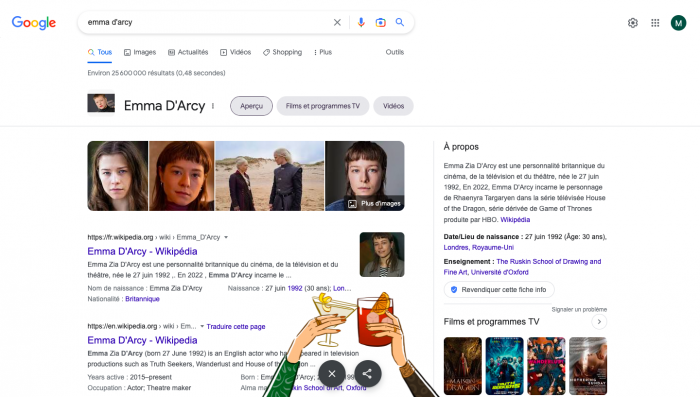 Dépassée par l'engouement des internautes autour de sa boisson préférée, Emma D'Arcy explained to our colleagues from the New York Times:
Je me sens tellement gênée. Parce que dans cette interview, alors que nous sommes là depuis six heures, honnêtement, j'essaie seulement de faire rire Olivia.
Visibly, c'est réussi, et même au-delà de ses espérances, puisque c'est tout Internet que la comédienne a musé!