En rejoignant la community Terre de Jeux 2024, the embassies of France are committed to 3 objectives:
Mobilize the plus large number of French, francophones and francophiles in the Paris 2024 project;
Mettre les Jeux de Paris 2024 au service de l'attractivité et du rayonnement économique et culturel de notre pays;
Rapprocher durablement le réseau diplomaticique du mouvement sportif international, notably les Comités nationaux olympiques et les Comités nationaux paralympiques.
Du Pacifique aux Amériques en passant par l'Asie, l'Afrique et l'Europe, les embassades sont déjà nombreuses à se mobiliser dans la perspective des Jeux olympiques et paralympiques de Paris 2024. Elles ont organizée, durant l'année2022, des dizaines de projets en link avec le plus grand événement sportif mondial.
Nombre d'entre elles ont pris part à des manifestations sportives mises en place dans leur pays de résidence pour la Journée Olympique du 23 June 2022 and la Journée paralympique du 8 October 2022, comme en Slavénie, au Kenya, aux Philippines , en Argentina…
Between January and September 2022, 22 embassies participated in identifying 257 candidates for the program of volunteers for the Paris 2024 Games.
Les liens entre sport et culture ont également rayonnés en 2022 thanks to the engagement of embassies, notably via the deployment of the photographic exhibition "Champion.ne.s", qui met lumière quatre athlètes porteurs d'engagement sociétaux forts : Marie -Amelie Le Four, Aya Sissoko, Arnaud Assoumani and Patricia Manuel.
The Embassy of France in Bénin presented the exhibition in April 2022
The French embassies also participated in the implementation of the Olympic and Paralympic Week in the French institutions of the AEFE network. In 2022, it mobilized 63 schools and more than 30,000 students.
By the way, four embassies hosted a stage of the Tour of Flags in Europe this year: Belgium, Germany, Greece and Italy in December, where an event was organized in conjunction with the Organizing Committee Milan-Cortina 2026 Winter Olympics and Paralympics.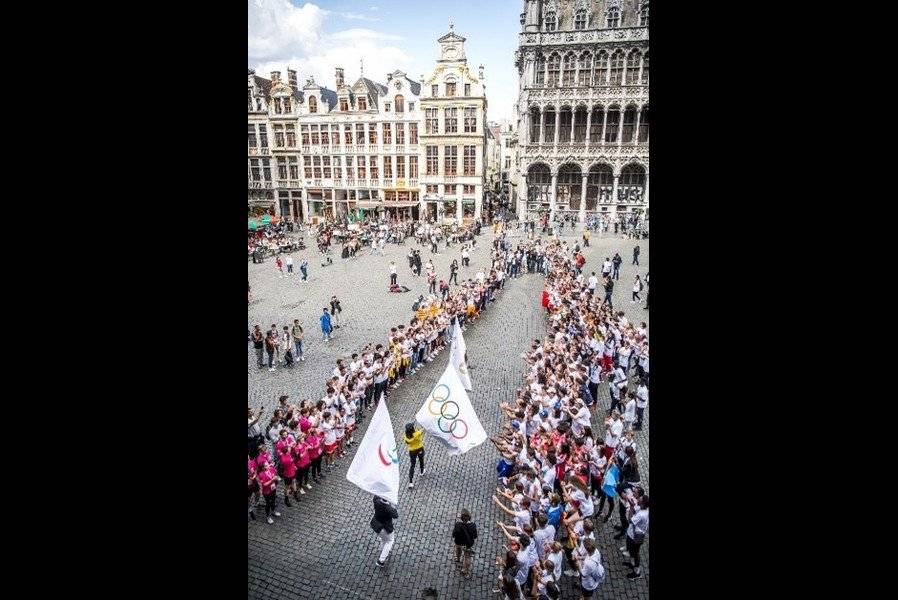 Thanks to the mobilization of the diplomatic network, the relais autour du monde has become an essential part of the Terre de Jeux 2024 program. On April 6, 2022, World Day of Sport for Development and Peace, 44 embassies and territories Outre-mer ont organized a course d'une heure from 9h to 10h (heure locale). Une fois leur course terminie, chacun a passé le relais sur les réseaux sociaux aux entités du fuseau horaire suivant.
Le relais autour du monde 2022, c'est :
8000 participants
22,000 kilometers of parkour suspension for 24 hours on 24 horizons,
31 sports, mis en lumière
37 international mobilized athletes
Le relais autour du monde allowed me to put into light the different sports practices across the world in their diversity and to live the adventure of games all over the world.
Revivez l'édition 2022 du relais

The next edition of the Relais autour du monde will take place on March 14, 2023, exactly 500 days to the opening ceremony of the Paris 2024 Games.

The strong implication of the diplomatic network has been translated into a mark of recognition for the part of Paris 2024: 2 embassies, each in Erythrée and Benin, received the Terre de Jeux 2024 Trophy on December 13, 2022 in Montpellier.
Plus information :